Woodlands Women's Ministry
Women's Ministry at Woodlands Church is a place where women can be encouraged by one another, deepen meaningful relationships with each other, serve together as we share the love of the Lord and grow together in our relationship with Jesus Christ. Our goal is that through Bible studies, special events, and outreach activities, we will grow more and more into the women God intends us to become. Meet our team here.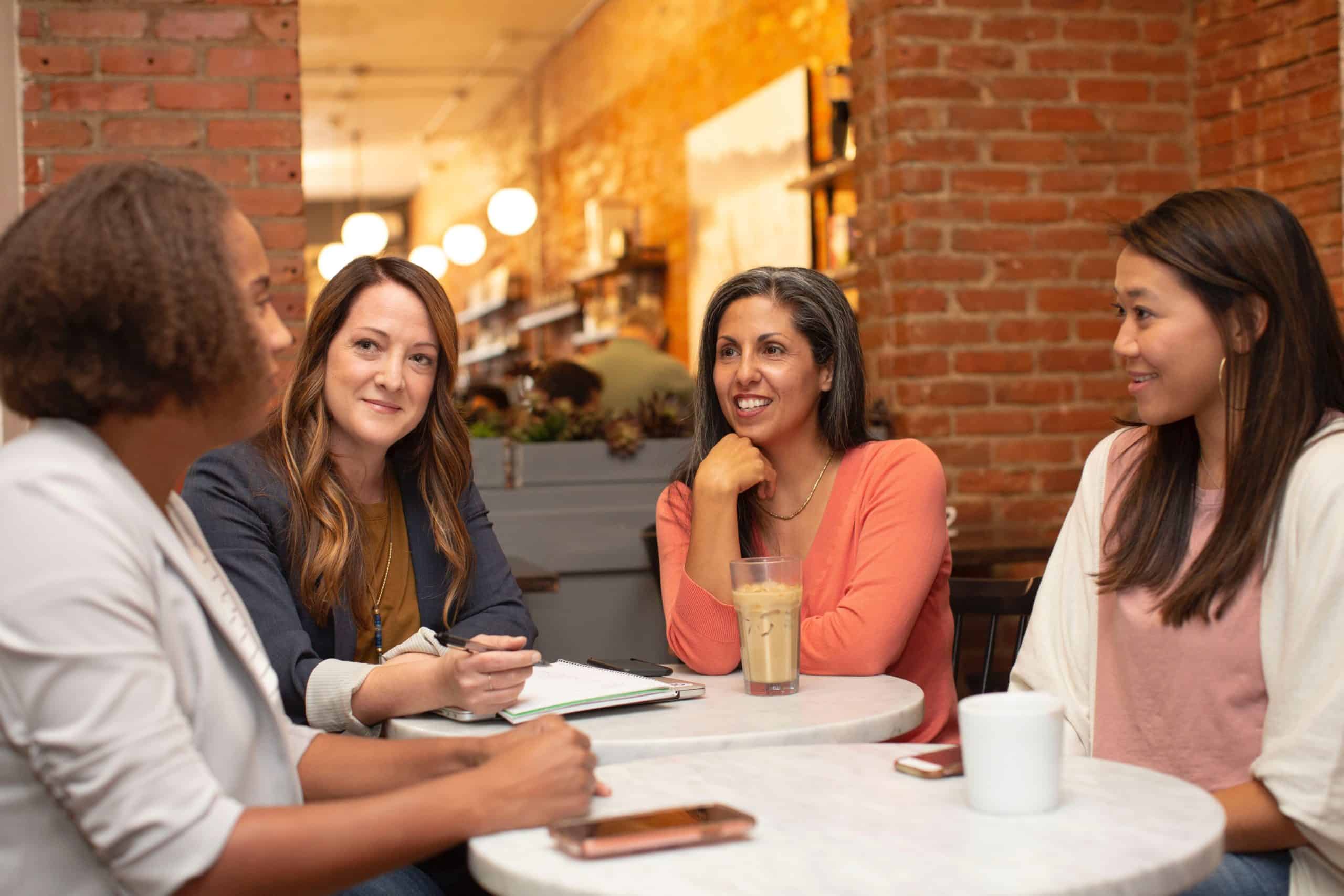 WOMEN'S CONNECTING OPPORTUNITIES
Dinner on the "Patio": This event happens on a Tuesday night in August right before the ministry year kicks off. It's a chance for you to meet other women, learn about what's ahead for the women at Woodlands and get involved!
Fall Real & Simple Conference – the second Saturday in November: Join us for an encouraging morning of wisdom & worship on the second Saturday in November!
Aroma Cafe – the last Saturday in January: Join us for a FUN morning of laughter and hearing God stories from some of our own.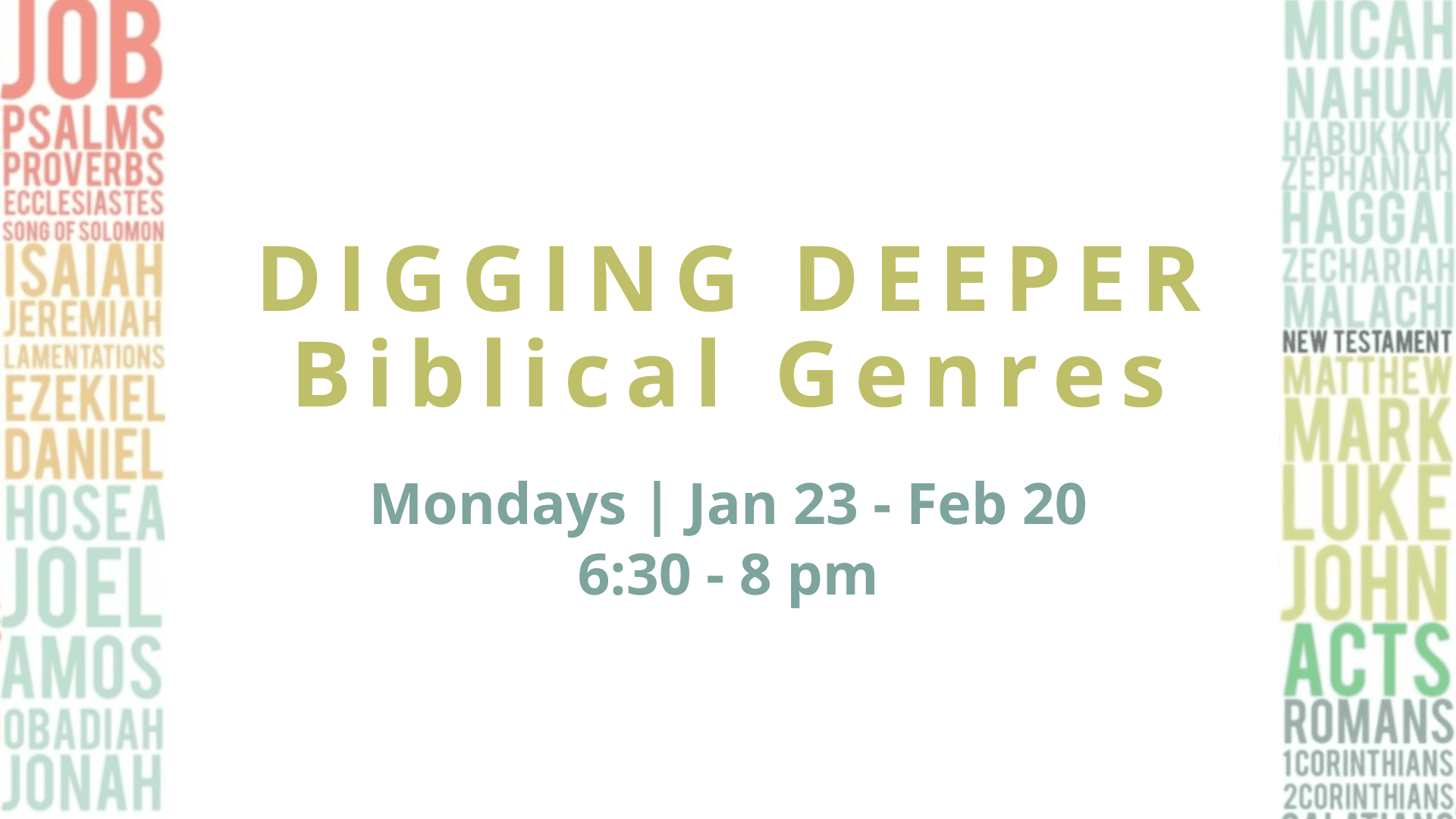 Digging Deeper: Biblical Genres
January 23 – February 20, 2023
Mondays, 6:30 – 8:00 PM
Join us as we pursue and practice studying Scripture's different genres, including narrative and poetry, in this 5-week class. It will be hands-on and, Lord-willing, fruitful for a lifetime of engaging in this practice together!
This class welcomes both men and women.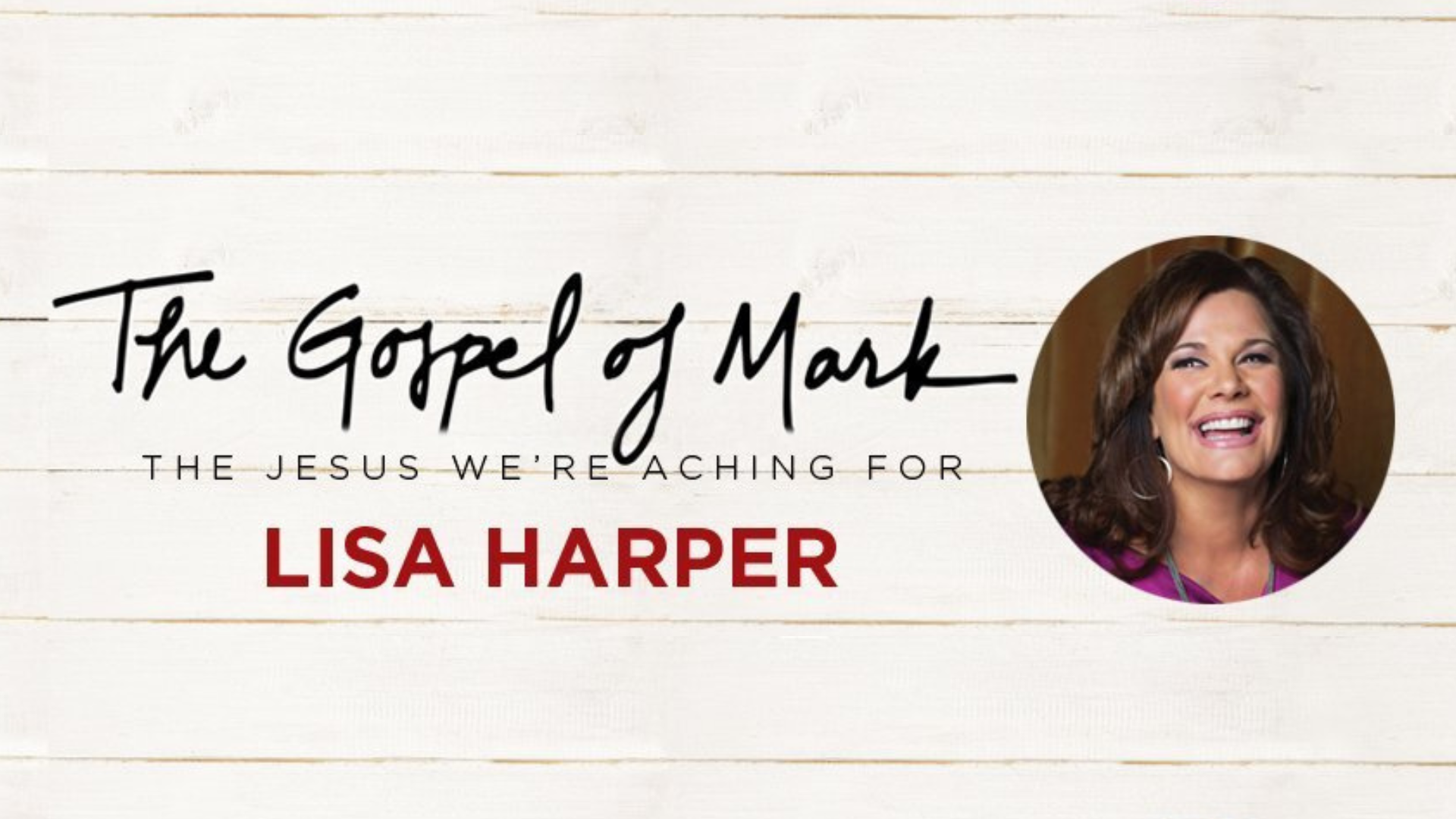 The Gospel of Mark
January 24 – April 25, 2023
Tuesday mornings, 6:30 – 7:45AM, In-person at Woodlands or via Zoom
Women, join us for this video study by Lisa Harper. Together we will explore Mark's account of Jesus, as he paints Him as a deeply personal and intimate God. We will follow Jesus through His days of early ministry all the way to the cross. There we will discover what it means to be on the receiving end of His compassion and the very reason for His all-consuming passion. We will be watching the videos every other week, so there will be plenty of time for the homework, a slow stroll thru the Gospel of Mark so it can really be absorbed. Hope you can join us.
We have a limited number of Gospel of Mark study guides available for $16.50. These do not have video access. If you'd like to purchase a copy with personal streaming video access, they're available through Lifeway.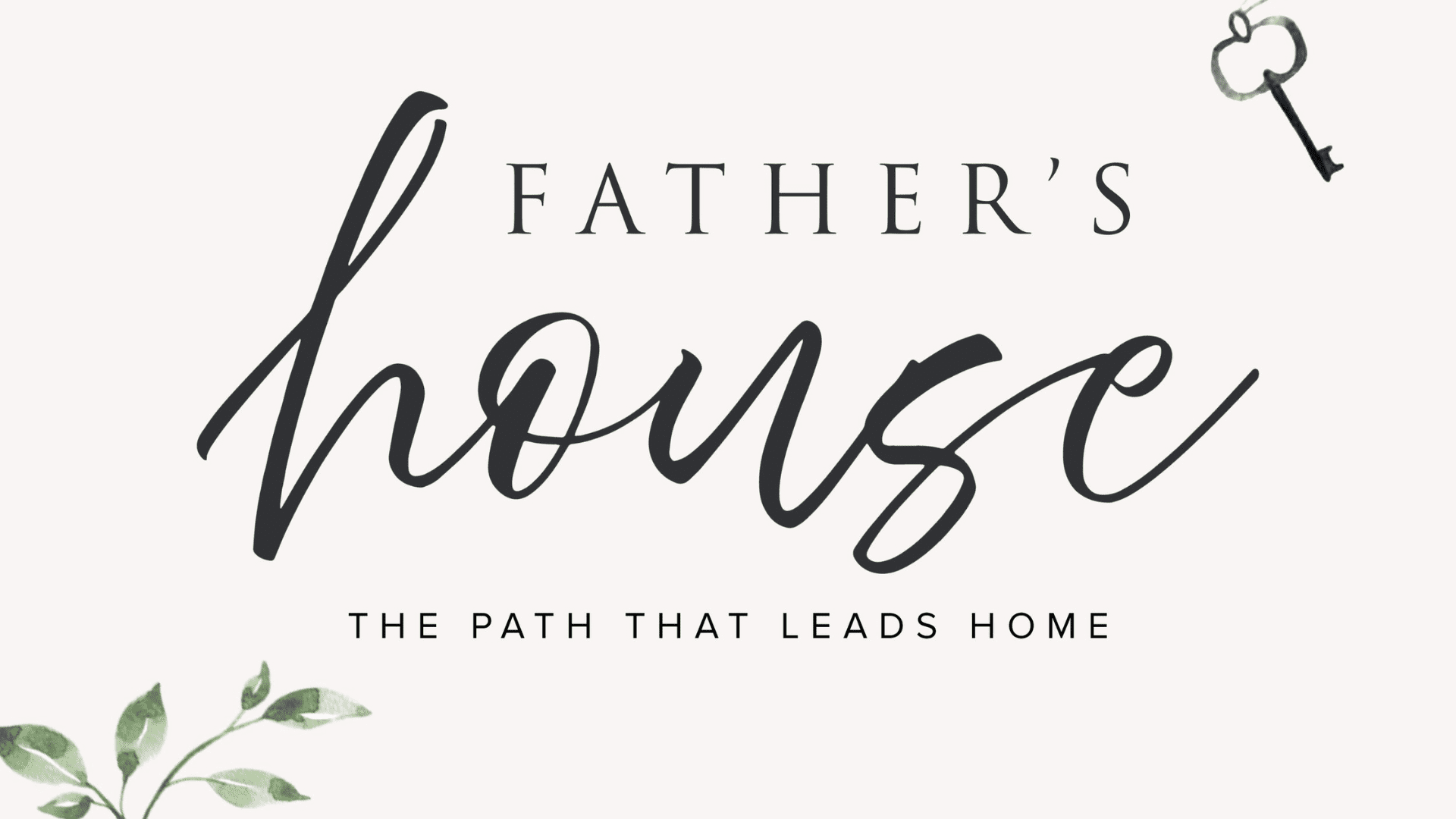 Father's House
January 26 – March 12, 2023
Thursday evenings, 6 – 8 PM, Offsite
Father's House is a study designed to position women for an encounter with Father's love. This study may be for you if you know about God's love but don't always feel His love for you. If you feel frustrated that the abundant life that you hear about on the pages of scripture doesn't seem to quite translate into your own real life transformation.Through biblical teaching and unique activations that connect your head to your heart, Father's House facilitates an experience with Father God that cultivates deeper intimacy and empowers you for a different kind of life – an adventurously expectant life! Cost of the book is $20.50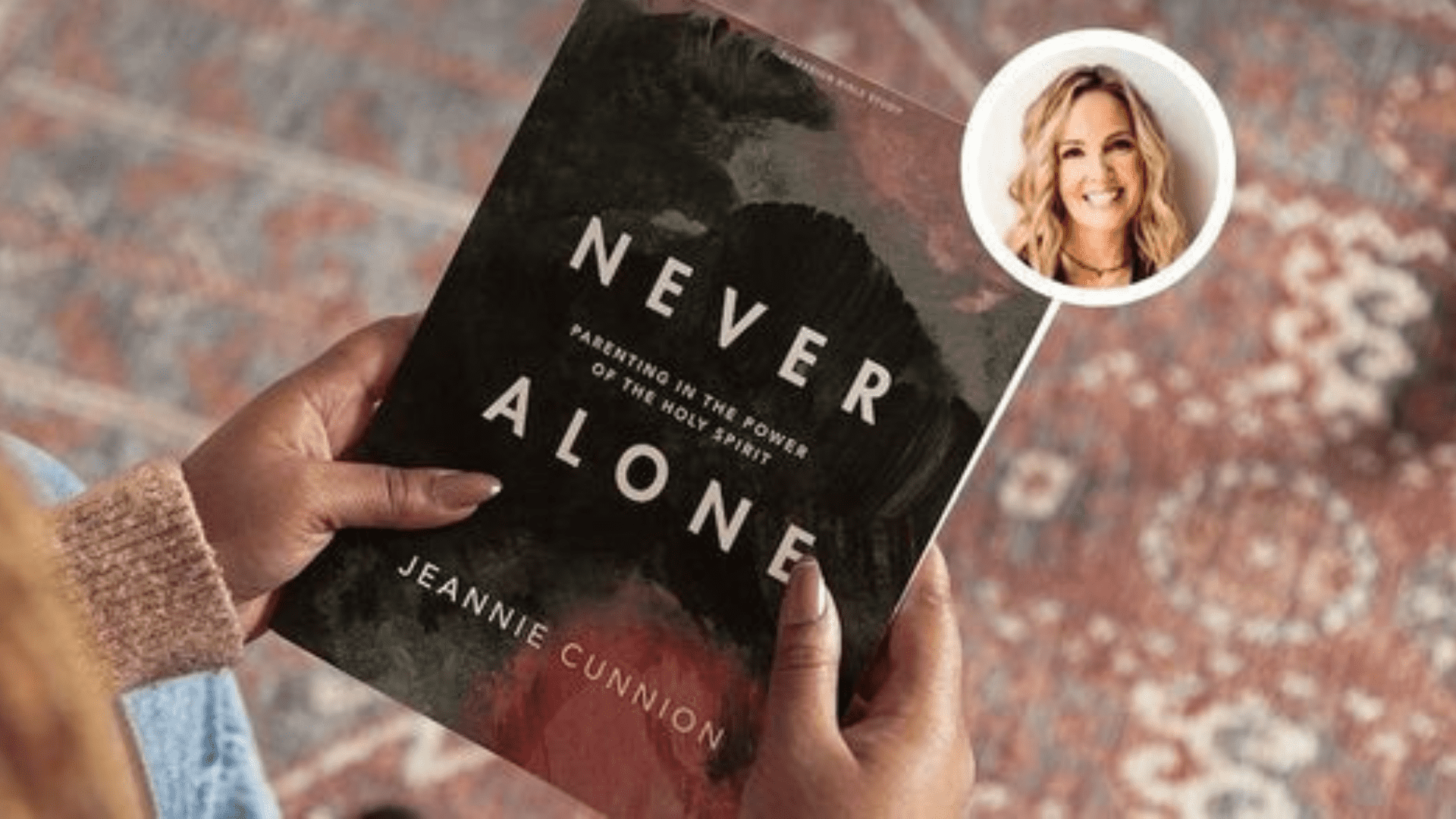 Mom's Discipleship Bible Study: Never Alone
January 12 – April 17, 2023
2nd & 4th Thursday – 9:30-10:45AM
In this 7-session study by Jeannie Cunnion, discover how the Holy Spirit's presence and power transform how you lead and love your kids. You'll be invited to wrestle through the question, Do I really know how to parent in the power of the Holy Spirit, or have I settled for parenting in my own power?
Good news, Mom! The Holy Spirit is championing you in the holy work of motherhood. Where you can't, He can! He is faithfully at work, making the gospel irresistible to your kids. You are never alone in your pursuit to point your kids to the love of Jesus. Come to know the Holy Spirit as your intimate Companion and Friend. Deepen your understanding of the Holy Spirit's role in your spiritual growth. Learn how to discuss the Holy Spirit with your children. Experience the freedom that comes from resting in the Holy Spirit, as you depend on Him to shepherd your children's hearts.   Cost for the study guide is $16.50.
Please text 715.204.4572 to register your children for childcare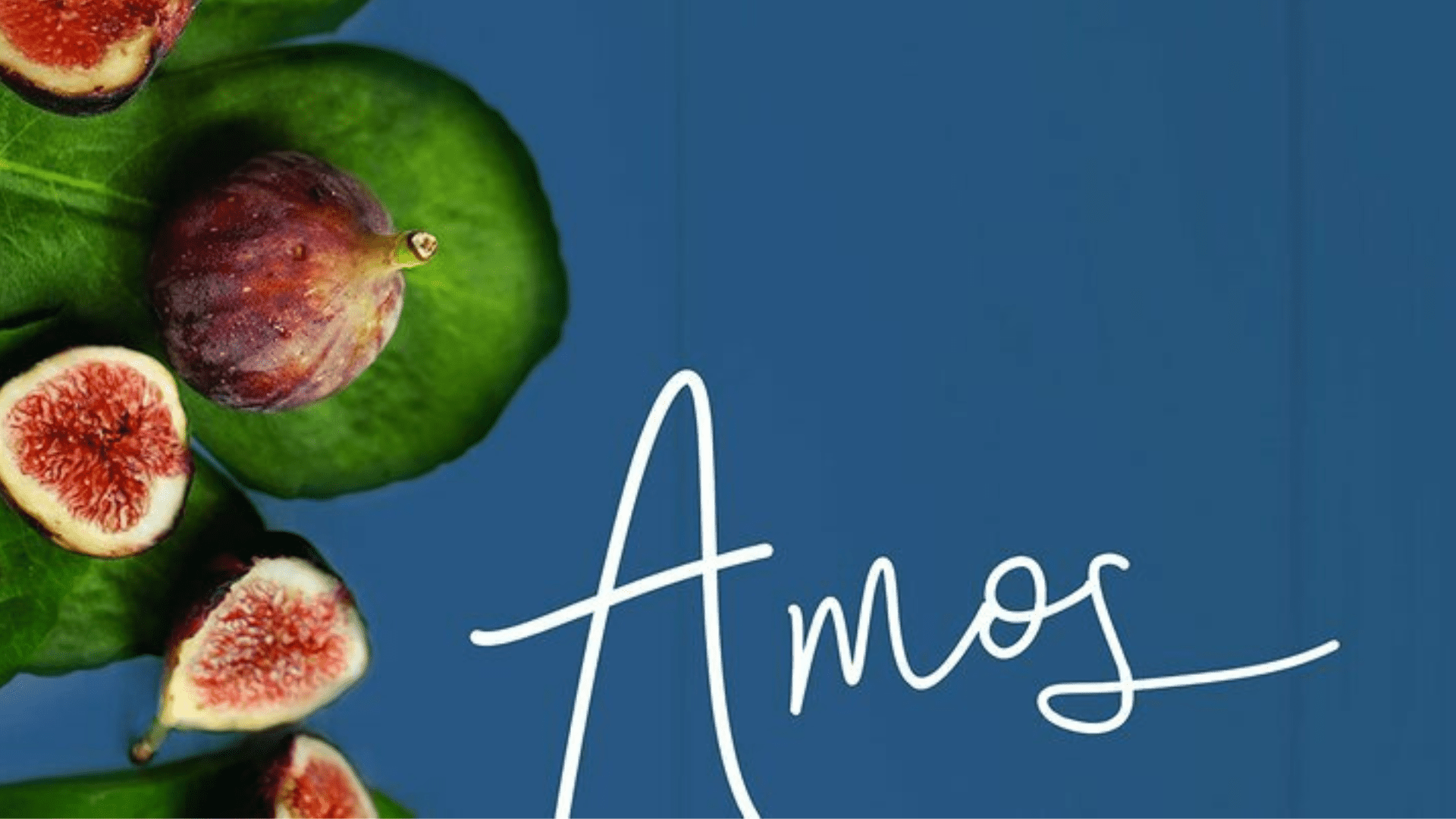 Amos: an invitation to the Good Life
January 25 – April 5, 2023
Wednesdays – 9:30AM
Amos is often called a prophet of doom! Through his pronouncements of judgment, we can see what happens when we don't live the God life. Yet, within each bleak condemnation, is a tacit invitation to seek God so we can live the good life. Amos is promoting the God life, and the God life is the good life! Through this video-based women's Bible study by Jennifer Rothschild, you'll be invited to live assured, faithful, chosen, humble, justly, prayerful, and hopeful. And you'll learn to: uncover the connection between the God life and the good life, learn how God's care for us prompts us to care for others, break hope-stealing habits to reverse self-defeating choices, and unearth the gems hidden within one of the most overlooked books in the Bible. Ultimately, you'll be invited to "seek God and live" (Amos 5:4).
Limited number of Amos study guides available for $22.50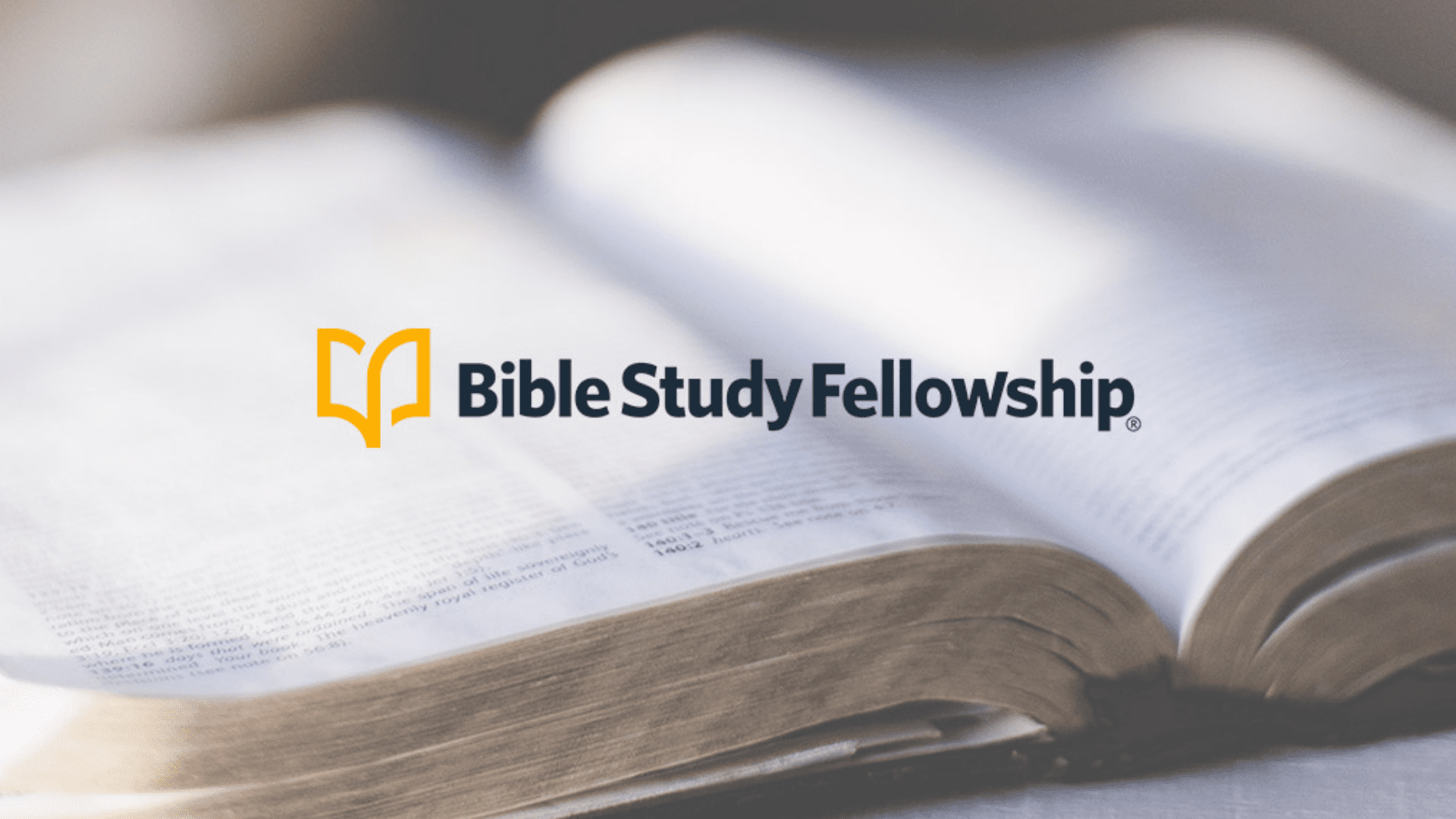 Bible Study Fellowship 
People of the promise: Kingdom divided
September 13 – May 9
Tuesdays 1:30 – 2:45 pm
The Stevens Point BSF Women's Group is currently full, but you're still able to participate online through BSF International.  If interested, please "Sign Up" below or at joinbsf.org.
The Old Testament is full of theologically rich books that both recount and shape history. They also set the stage for the long-awaited Messiah, containing more than 300 prophecies covering His birth, life, death, and resurrection.  
People of the Promise: Kingdom Divided
 will unpack a fascinating period in Israel's history across 15 books, from its split into two nations, through dozens of kings and prophets and ultimately to the heartbreaking exile into Babylon.
Learn More
Study Overview
After Solomon's failures, God's chosen nation divided into two separate kingdoms: Israel and Judah. A long list of mostly evil kings led both kingdoms away from God and deeply into idolatry. With persistent patience, God sent prophet after prophet to faithfully warn His people of coming judgment and call them to repentance.
Brief moments of revival offered interludes of hope. In the end, both nations rejected God and promised judgment came. First, Israel fell to Assyria and then Judah to Babylon. The people were exiled in foreign lands. This dark period in Israel's history did not end without hope. In His mercy, God's voice was not silenced. By His sovereign grace, God preserved the lineage of David and the promised Messiah and a remnant of faithful people. God's purposes cannot be thwarted by rejection or rebellion.
 Here's how 
People of the Promise:  Kingdom Divided
 unfolds:
1 and 2 Kings and 2 Chronicles
Hosea, Joel, Amos, Obadiah, Jonah, Micah, Nahum, Habakkuk, and Zephaniah are situated where they fit into Israel's storyline.
The study of Isaiah is folded into a four-week segment
New to our BSF study content: Jeremiah and Lamentations!
Women's Serving Opportunities
SOS Team
This is a chance to serve in the Women's Ministry as opportunities arise!
We have several events throughout the year where you are able to use your gifts to serve, if you're available. If you like setting up, cleaning up, making food, working on decorations and so much more – this is the team for you!
It's simple – we send out an e-mail with opportunities and you respond if you're available. You can join the team by contacting Beth Kraeger!
Serving Team
The Serving Team provides desserts or baked goods for Discover Woodlands, special events or conferences and provides salads and desserts for church funerals. Serving team members may also have the opportunity to serve during these events. Contact Patty Koch pakr4@hotmail.com
With these hands
Knitting/Crocheting Service Group
This group of knitters/crocheters makes prayer shawls, lap robes, scarves, mittens, washcloths, chemo hats, etc. to be donated as needed. We're also open to new charities and their needs. We would love to have you knit and crochet with us on Tuesdays from 6:00 – 7:30 pm at the church.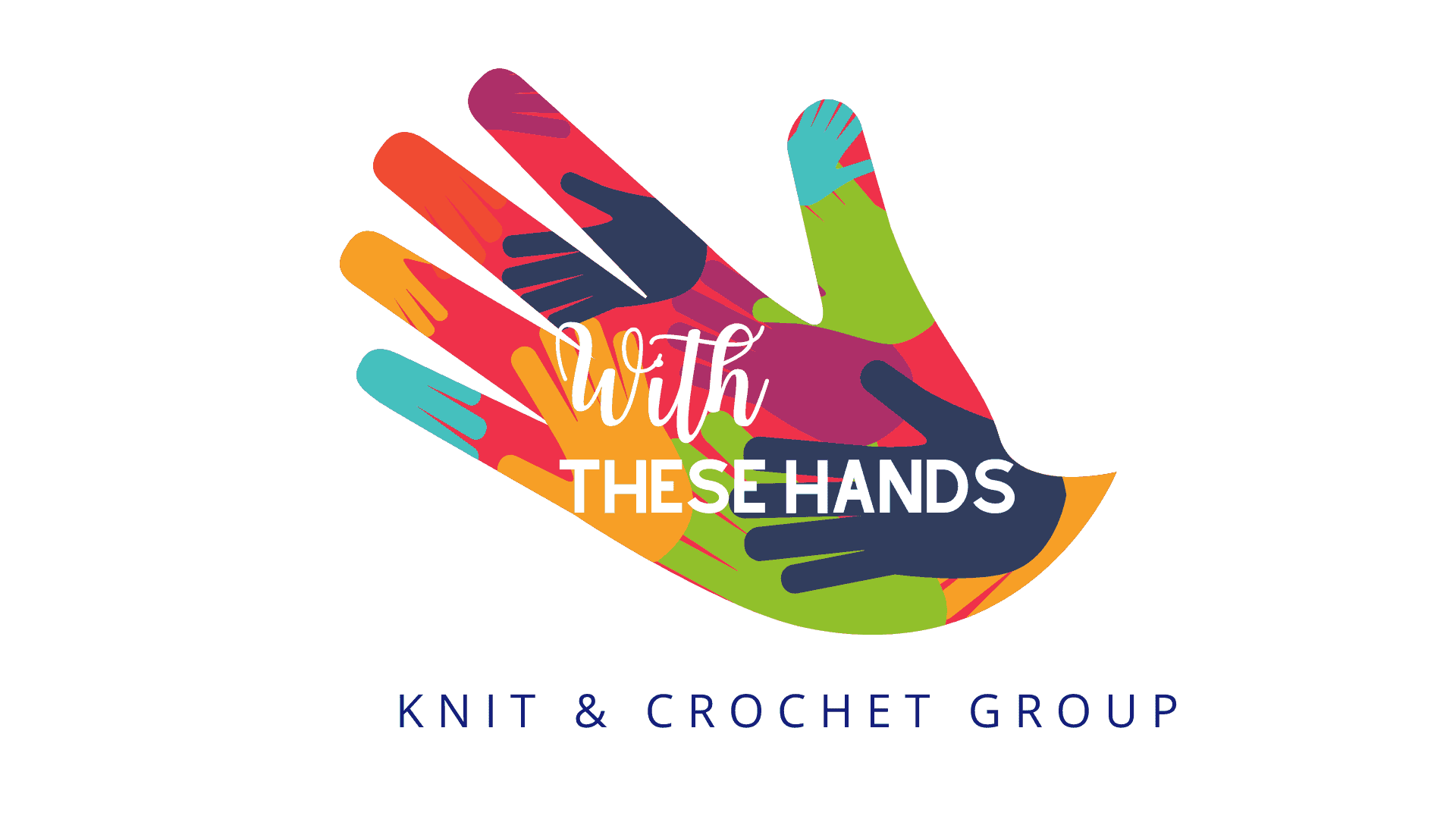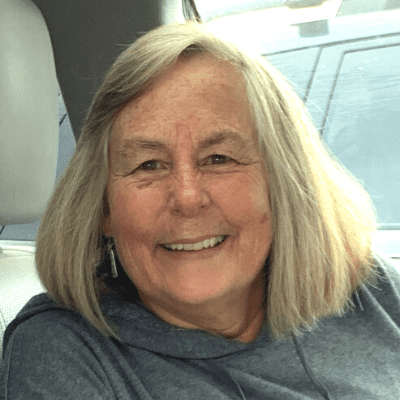 Beth Kraeger
Bio
I've been attending Woodlands since we moved here almost 25 years ago. I served on the WM team for a couple years and have had the privilege of leading the team for the past 15 years.
Family: Married my high-school sweetheart, Dan over 40 years ago! We've enjoyed the ups and downs (mostly ups!) of parenting 3 children. Our first-born, Katie, is married to Eric and lives in Monona. Kinden is married to Isaac and is here in town (pinching myself about that!) and son Tyler and his wife, Callie are in Knoxville, TN. I am 'Ama' to Katie's kids Ellie (6), Evan (4) and Asher (almost 2) with another little coming this spring. Also, Kinden's kiddos Bo (3) and Kai (almost 1). 
I love being outside in any season, traveling, walking, reading, enjoying time on my porch and discovering all parts of WI on our Miata adventure days.
Favorite Local Restaurant: Sitting outside around the fire at PJ's.
Serving on the WM team feeds a fire in my soul to work with women. This team has a heart for women and are willing to serve however the Lord leads. It's a pleasure to work with a team to provide opportunities for women in the church to connect, have fun and further their walk with the Lord. A passion of mine has always been connecting women, especially connecting women of multi-generations. I enjoy meeting new people and helping them feel welcomed and connected.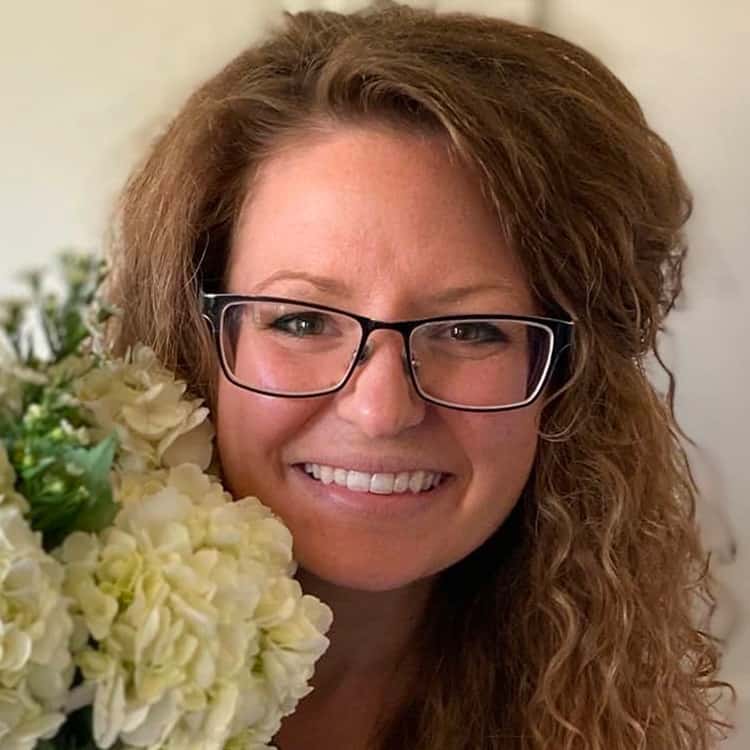 Kinden Vazquez
Bio
Family: I have been married to my husband, Isaac since 2014 and we have two boys, Bo and Kai. We love camping, traveling, hiking, fishing, biking, kayaking and are always up for a good documentary!
Favorite Local Restaurant: Hilltop
I love being on the women's ministry team because I get to work with my mom (Beth), get to know other women on the team, and be involved in creating events around church. Woodlands is large and I love being part of a team who aims to connect women and provide opportunities to meet each other and learn more about the Lord!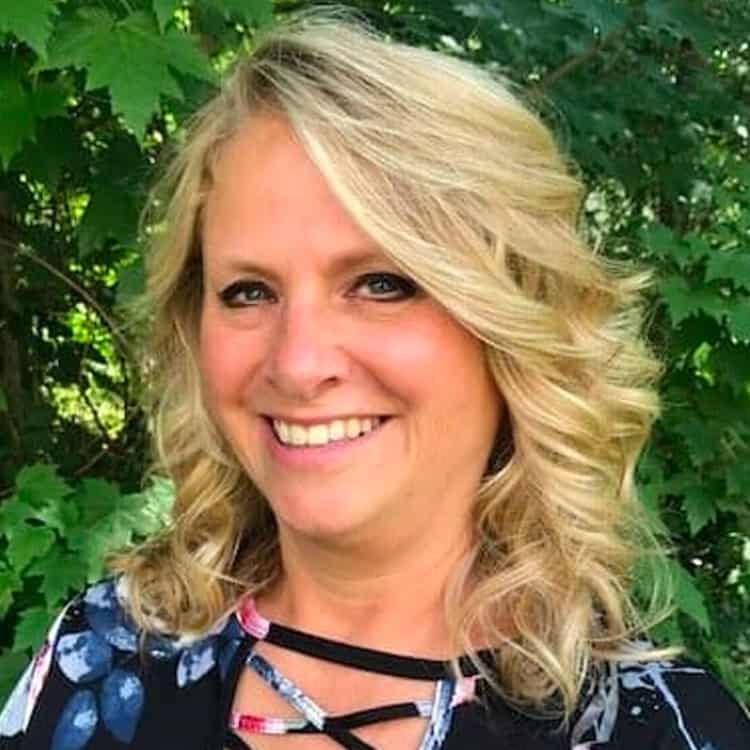 Brenda Nelson
Bio
I have been attending Woodlands church for 35 years and I have been a part of the Woodland's Women's Ministry Team for 8 years.
Family: I have a wonderful husband, Brice, who I have been married to for 33 years. I am blessed with 3 beautiful children Brianna, Brennan and Brett. In the past 4 years I have also been blessed with a wonderful son in law Will, and two sweet and loving daughter-in-laws, Lindsey and Sabrina. I am also now a grandmother to the most perfect little boy Westin! How very blessed I am! When I am not spending time with my family I love camping, Mexican food, traveling and reading.
One of the greatest parts of being on the Women's Ministry team is witnessing women of all ages connect and grow. I love to see friendships form over food, Bible Studies, games, or even helping set up for events. John 15: 12-13 My command is this: Love each other as I have loved you. Greater love has no one than this: to lay down one's life for one's friends.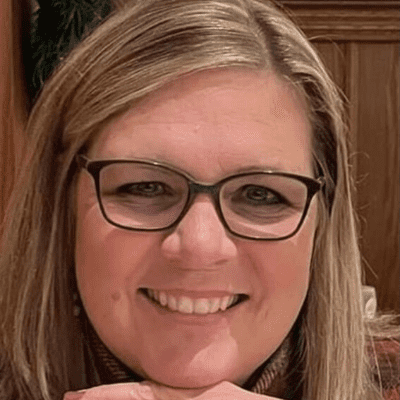 Amy Terpstra
Bio
I am excited to be in my 1 st year serving on the Women's Ministry Team.
I grew up in Port Edwards/Wisconsin Rapids, but lived in Indianapolis for 33 years. Stevens
Point became home in February of 2021. Woodlands was the first church we started attending
and officially joined in July of that year.
Family: I have been married to my husband, Steve, for almost 35 years. We love riding our
Harley, traveling, and anything nature! I love walking, baking and a good snowfall! Our son,
Adam, moved here last May from Charlotte, NC. (His working remotely has it's perks for me!)
Indy is still home for our daughter, Kiley. Luna, our 11 year old kitty, is enjoying Wisconsin life!
Favorite Restaurant: Portesi's in Wisconsin Rapids (PIZZA!!!)
Being active in my local church has always been a high priority. I played the keyboard weekly in
our praise band and enjoyed leading or facilitating many ministries over the years. I have a
strong desire for connections, especially for women.
I feel blessed to be able to be part of this team and the vision it has for the women of
Woodlands!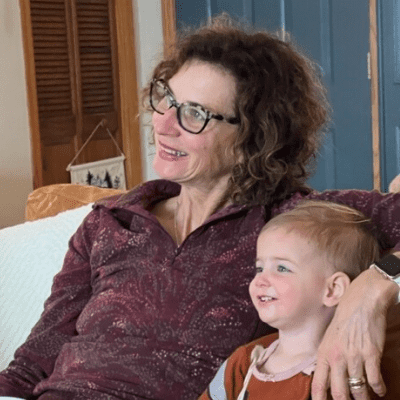 Jane Elliott
Bio
I joined the Women's Ministry Team 5 years ago. I was born and raised in Stevens Point WI, born again 28 years ago in San Diego CA.
Family: Happily married to Mark for 31 years. Proud mom of three sons Ethan (Sydney) Isaac (Sami Kay) and Jake. Welcomed two daughter in loves the summer of 2020, and a granddaughter, Isla Jo, in April of 2021. ❤️ I love the outdoors and see beauty in God's creation. I especially love horses and dogs and spend much of my free time horsing around!
Love Jesus, and in times of distress I remember that He is the king of the world! So I turn my worries to my king for peace. If you like to walk and talk I'm your gal. Or I'd happily meet you for coffee if you need to connect! Looking forward in Christ!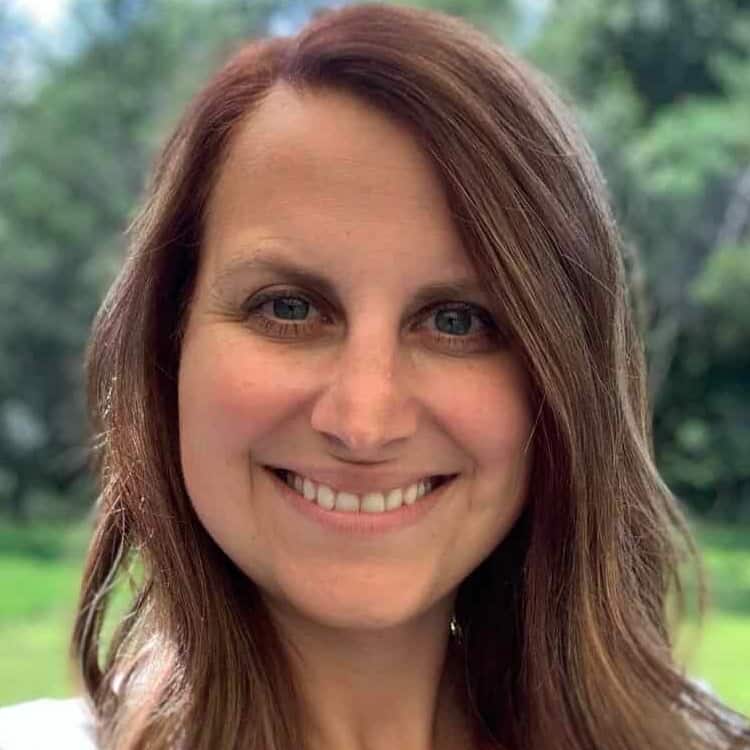 Brianna Blakey
Bio
This is my 5th year with Women's Ministry.
Family: I have been married to Will since August 2016 and we just welcomed our first baby, a little boy-Westin, in March 2020! We also have a Red Lab named Stella.
Favorite Local Restaurant: Point After.
I wanted to join Women's Ministry because I needed an outlet for some of my passions and spiritual gifts. I enjoy leading and being creative/crafting and I thought this would be a great fit!