We met early at church to say farewell to our families and head to O'Hare. Bill Whalen graciously agreed to drive us all in a 15-passenger van to Chicago. Once there, we met up with 5 individuals from a church in Racine and a member of the Compassion staff that would accompany us on the whole trip.
We boarded our Air India 777 - which holds close to 400 people - and settled in for our 14 hour flight. Luckily, the plane was only half full, so we got to spread out a little. We left nearly on time, and soon got our first taste of India (literaly) with a delicious spicy dinner.
We passed the time reading, talking, and watching movies onboard. But soon we were drifting off to sleep - some better than others. To help get our internal clocks adjusted, they woke us up at 3:30 am (central time) to feed us breakfast - again a very impressive meal for airplane food!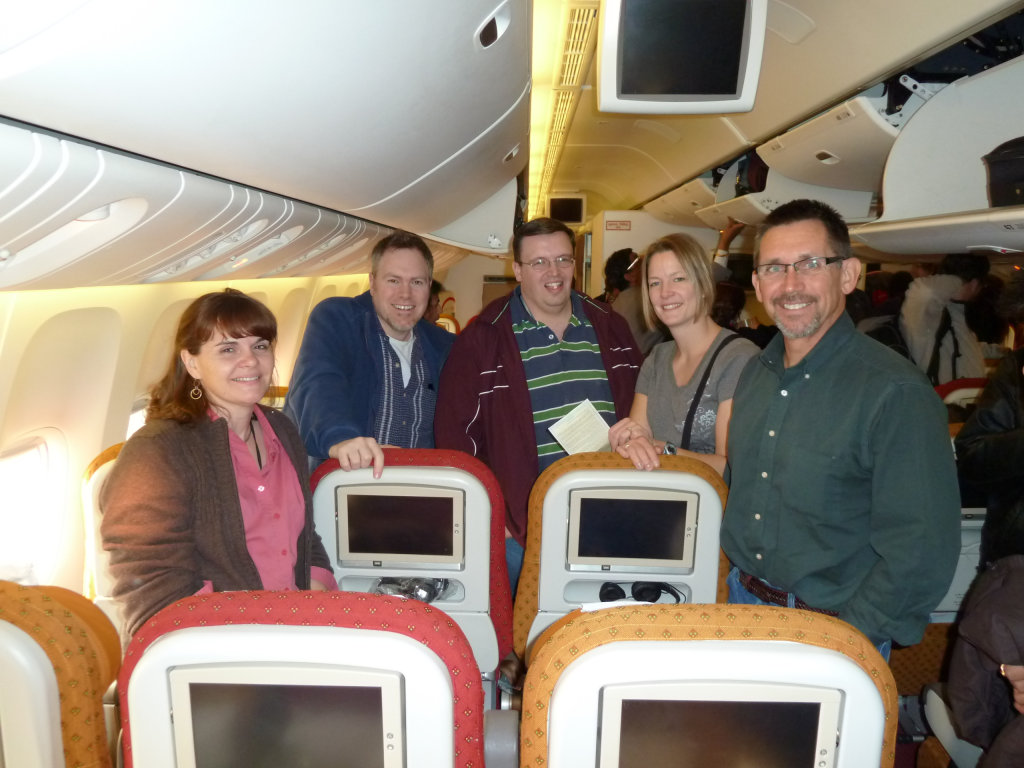 And then we landed in Delhi, and the adventure began. Our fearless leader led us through customs and we got our visas stamped. But soon we found out that was the wrong thing to do, and we weren't supposed to go through customs until we got to Kolkata. So then we stood around for an hour while they tried to "cancel" our visa stamps. It was one of the many chances we will a get on this trip to trust that God is in control - seeing someone walk away with all your passports and disappear for any amount of time is always a little scary.
But soon we were back to where we were supposed to be, and on our flight to Kolkata. Once we got there, around 11 pm, the Compassion India staff were waiting with a bus to take us on an hour ride through the streets of Kolkata. Wow, what a different world it is here. The streets were still packed with Taxis and cars, and a constant honking of horns. But soon we checked in to the BMS retreat center, thankful for an actual bed, and exhausted after a long two days of travel.